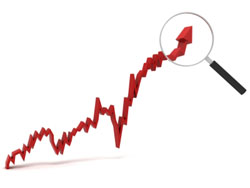 There are over 176,748,506 websites online today. That number will grow by 3 million new websites each month. With all the "noise" out there getting your signal to your customers can be a challenge. Standing out takes skill and effort.
A strategy that segments your incoming traffic is the first step. Some traffic sources offer high quality visitors which convert much easier. Other traffic sources send low quality visitors. By knowing the difference from the start you will avoid chasing the low value traffic sources.
With that in mind these are the primary traffic sources when marketing online:
Paid Search – Bid on keywords and compete for the best position for your ads on major search engines like Google, Yahoo, MSN. Segmenting performance data into keyword, adgroup, and campaign levels can yield powerful results.
Natural Search – Compete for the coveted "top spot" on search engine organic results. Try to find niche keywords that drive quality traffic but have been overlooked by your competitors.
Affiliate Marketing – Build a network of partners and content providers that display your ads and links. Paying affiliates by performance makes everyone happy.
Email Marketing – Build a relationship with customers and prospects through regular email contact. The cost of delivery is low but not damaging your relationship is key.
Comparison Shopping Engines – If you have the lowest price and the good reviews you'll excel in this arena.
Social Media Advertising – Dial down to the exact demographic you desire and advertise to potential customers. You only get charged when they click.
Viral and Web 2.0 Marketing – Target the masses with something so enticing your message is propelled "virally" through the web.
Marketing online is exciting and can be very rewarding. With the help of advanced tracking and following best practices each of your strategies can be a success.